Free Ebook Cover Actions- Hardback
It might not be easy for some to design
their own ecover from scratch.Even for a pro.
A lot of time,the end result seem to be frustrating.
Distortion, Weird perspective,eyesore from mismatch
colors are among commons.
However, templates make this time consuming
tasks much easier and faster.
But there is a better way to make the job done:-
Photoshop eBook Cover Actions .
What Is Action Script?
An action is referred to as a recording of a series
of commands that is used to capture repetitive tasks.
These commands are to be applied to a series of files
and will guide users in a step-by-step manner.
Meaning?
1- You can create a cover almost instantly,
just with a few clicks.
2-You can create amazing covers as much as
you want with a single script.
3-No more depending on Mr. designer each time
you come out with new products.Save your precious
time and money.
For internet marketers,this is one of the very useful
and powerful tools available so far.
Internet marketers should consider Photoshop
ecover actions to be listed as a must-have tools.
Where can I get one? ..for FREE?
- Well, congratulations, you have come to the right
place.
Other than templates,we provides ecover photoshop actions
at no cost as well. 100% free!
Our blog will be updated from time to time adding more
and more actions.
So do not forget to bookmark us at
www.eCover-Templates.com.
Feel free to download and make a good use of it.
Free eBook Cover Actions- hardback#1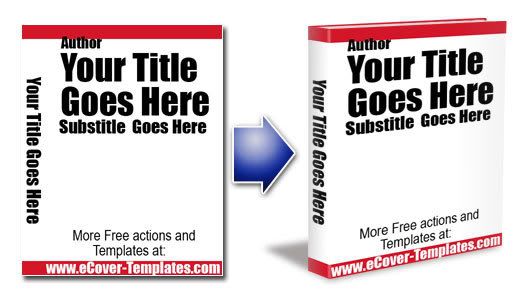 And Here's the download link: